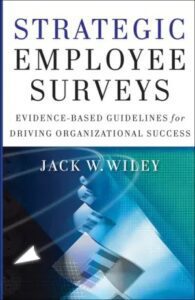 "From the Inside Flap
Most large organizations today conduct employee surveys to measure employees' opinions regarding the organization and its policies and practices. A properly formulated employee survey program can represent an opportunity to affect and strengthen the organization, making it more competitive in the marketplace in which it operates. But although there are a handful of books available today to guide the development of survey programs, there are none that approach the topic from a strategic point of view. Strategic Employee Surveys was developed to explain the Strategic Survey Model and how it can be used to guide the development of employee survey programs, ensuring they serve their strategic purpose. In addition, this book guides organizations in the most effective survey feedback and action planning processes.
Dr. Jack Wiley explains that survey program purpose, survey content, and survey follow-up processes should all derive from business strategy. In the first part of the book he offers specific examples of how to measure safety, ethics, union vulnerability, work and life balance, and diversity. He also reveals the drivers of employee retention and employee engagement and how to measure them along with examples of survey content that best predicts customer satisfaction and loyalty and other business performance metrics. With each type of survey content, Wiley also presents the most recent normative results, useful for placing results from any organization into the proper interpretative context.
The second part of the book offers specific guidance on the other key component of ensuring employee survey program success: the survey feedback and action planning process. Wiley outlines a time-tested seven-step model of survey feedback and action planning, explaining each step of the model and providing real-life client examples that identify the most common pitfalls of the overall process. Readers will learn how to navigate around these potential problems and will receive advice on how to set goals for improvement from one survey measurement to the next. The book concludes with a discussion of the characteristics of leadership teams whose organizations achieve sustained improvement over multiple iterations of survey measurement.
From the Back Cover
Praise for Strategic Employee Surveys
""This is a must-read! If you want to bring your employee survey up to the next level—if you want to predict and drive your organizational outcomes, including customer satisfaction and business performance—if you want to move your business strategy and survey program closer together, then this is your book.""—Franz G. Deitering, Ph.D., SAP, and CEO, RACER Benchmark Group; former Chairman, IT Survey Group
""[Wiley makes] an excellent, well-balanced approach to making the business case for employee surveys and providing reinforcement on the essential components—from purpose and development of the instrument to results analysis to action planning.""—Lawrence E. Milan, Senior Vice President, Human Resources, ING U.S. Insurance
""This book does not get bogged down in statistical analyses, yet it features a healthy mix of the theoretical and the practical that works for the novice and the experienced survey program manager alike.""— Thomas E. Mitchell, Vice President, Northern Trust Company
""The book's key concepts are illustrated with many specifics, especially survey content, and lots of fascinating 'war stories.' This book will become a well-thumbed volume by all who want to make the most of employee surveys.""—Allen I. Kraut, Ph.D., Professor Emeritus of Management, Zicklin School of Business, Baruch College, CUNY"
Read More